One of the great things about living in Washington D.C. is that I'm never bored. There is always a concert, gallery, museum, or happy hour and great friends to accompany me to whatever random event pops up. And it seems that the longer you live in this city, the more people you know who can get you into the "good" events.
Over the past couple of weeks my social calendar has bulked up as the holidays descend on our Nation's Capitol. The Christmas season was officially kicked off by the lighting of the National Christmas Tree. Tickets to this annual event are available by lottery only, and this year I entered but did not receive tickets. Lucky for me, a colleague at work had the fancy seating-area tickets that are only available to a select few, and she had two extra seats. So instead of standing in the back, freezing, I was up near the front where I could see the President, Michelle, their girls, and of course Kermit and Santa. We even ran into Carson Daly, the host, on our way out.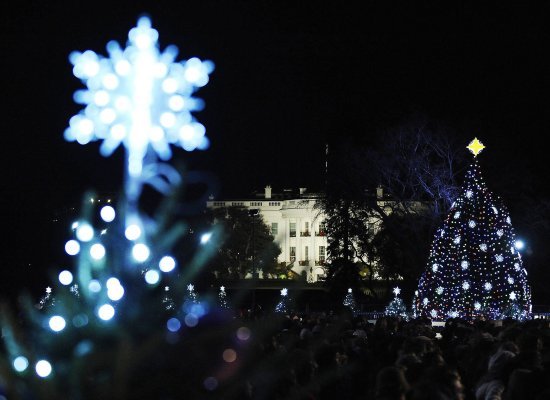 Picture from Huffington Post/Getty Images of the lit tree and White House.
Just after the Christmas Tree lighting, a friend and I walked over to the Newseum for the launch party for Coca-Cola's "
Arctic Home
" initiative. Both of us work on Arctic policy from the government side of things, so we were interested to see what Coca-Cola was planning to do with the iconic polar bears. As part of their awareness raising effort, they changed the can from red to white during the holiday season, which has apparently
caused all sorts of confusion
and outrage. Can color aside, it seems that Coca-Cola and WWF are partnering to help preserve the last areas of the Canadian Arctic that will experience melting due to climate change. Basically, ensuring that an "ice-refuge" will be protected for the threatened species. Of course, it's more complicated than that, but the party they threw in the polar bear's honor was lovely none the less. They had specially themed drinks, polar bear cookies, yummy appetizers, and a preview for a forthcoming Imax film that brought be back to my elementary school field trip to see Blue Planet on the Imax screen.
The Christmas extravaganza continued this week with a invite to the Danish Embassy's "Creative Christmas" party at the Ambassador's residence. It was great fun, like hanging out in someone's very large Danish Modern living room, but with fabulous catering, three bars, and live music. Once again there was an Arctic theme, with Greenland (which is under the Kingdom of Denmark) providing the inspiration for food and drink.
Finally, the week ended with the annual Returned Peace Corps Volunteers (RPCV) holiday party. This was my third RPCV event in D.C., and it's always a great event. Unfortunately I didn't walk away with any of the silent auction items I was going for (there was a large basket that someone kept out-bidding me on), but the event was still a good showing of like-minded world travelers.